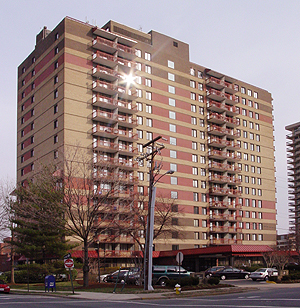 Spectacular panoramic views of the Nationís Capitol, Maryland and Virginia await the winner of this one bedroom apartment-style condominium. This one-bedroom, 799 square foot unit is filled with beautiful appointments including a split-level living room with columns. Located on the 17th floor of a newly renovated art deco style high-rise, the building occupies an entire block in Olde Town Alexandria, Virginia. Consisting of 200 units, plus commercial space and two floors of underground parking, this community is just minutes from downtown Washington, DC and the metro area. Nearby Spa facilities are even available for free to tenants and owners! Submit your entry today for a chance to win this desirable property.
Appraisal Value as of [date]: $190,000
Appraised By: Alliance Appraisers
Maximum Entries: 13,300
Opportunity to Win: 1 in 13,300
This property is no longer available.
If you have joined this subcontest, please read the Rules & Regulations.
Sorry for any inconvenience.
You will receive your refund promptly.
Thanking in advance,
- The Sponsor
If you have a refund question please contact Claudia Johnsen directly.
Tel: 703.548.7188
For more information and a complete list of rules and regulations, refer to the Rules and Regulations page.